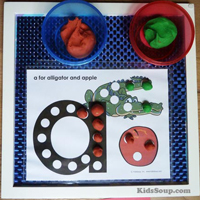 Objectives:
Children will have fun learning the letter A shape and sound with these A for Ally Alligator games and printables.
Not an ABC Twiggles member yet? Only $24 for one year! Click Here and Purchase Now! and get instant access to all our resources for each letter of the alphabet.
SPECIAL OFFER! If you are currently a KidsSoup member we offer a 30% Discount for an ABC Twiggles membership. You can purchase the ABC Twiggles membership for only $15.39! A great value. To purchase go to the KidsSoup Store and login as a "returning customer" and enter discount code KSABCUPG at the Payment Information page during checkout to receive the discount.
Click here to view all resources for the Letter A for free!